---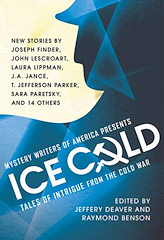 Twenty short stories of the Cold War, by twenty of today's top mystery writers.

T. Jefferson Parker's story, Side Effects, is a new take on 60's intrigue!

Order ICE COLD Now!Amazon.Com
Barnes & Noble
Indie Bound
---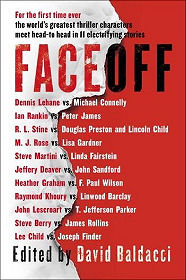 T. Jefferson Parker is one of 23 authors in the new anthology, FACEOFF. See what happens when John Lescroart's Wyatt Hunt and T. Jefferson Parker's Joe Trona try to go fishing in Mexico!
Order FACEOFF Now!
Amazon.Com
Barnes & Noble
Indie Bound
---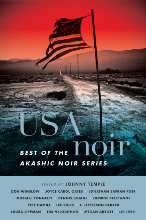 T. Jefferson Parker is a contributing author for USA Noir: Best of The Akashic Noir Series.
---
| | |
| --- | --- |
| | |

In the Shadow of the Master: Classic Tales by Edgar Allan Poe and Essays by T. Jefferson Parker, Jeffery Deaver, Nelson DeMille, Tess Gerritsen, Sue Grafton, Stephen King, ... Lisa Scottoline, and Thirteen Others
Collected here to commemorate the 200th anniversary of Poe's birth are sixteen of his best tales accompanied by twenty essays from beloved authors, including T. Jefferson Parker, Lawrence Block, Sara Paretsky, and Joseph Wambaugh, among others, on how Poe has changed their life and work.
---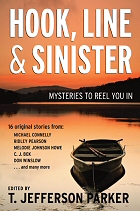 Edited by T. Jefferson Parker, this original collection of short stories by best-selling mystery writers features their favorite pastime—fishing. Sixteen of America's favorite author-anglers spin tales of mystery and fishing in this collection. From the tragic to the comic with many stops in between, these stories reflect the authors' passions for both making stories and catching fish.
Buy the Book
Amazon.Com
Barnes & Noble
Borders
Indie Bound

NEWS

Published August 22!

A P.I. carrying his own vicious wounds hired to track that soldier down.

A race against the clock to bring the soldier home before he reveals the secret that haunts him.

Roland Ford—once a Marine, then a cop, now a private investigator—is good at finding people. But when he's asked to locate Air Force veteran Clay Hickman, he realizes he's been drawn into something deep and dark. He knows the weight of war, having served as a Marine in First Fallujah; he also knows the nightmare of indescribable personal pain, as only two years have passed since his young wife's sudden death. What he doesn't know is why a shroud of secrecy hangs over the disappearance of Clay Hickman—and why he's getting a different story from everyone involved.

Soon, what began as just a job becomes a life-and-death obsession for Ford, pitting him against immensely powerful and treacherous people and forcing him to contend with chilling questions about truth, justice, and the American way.

THE ROOM OF WHITE FIRE TOUR SCHEDULE IS NOW ONLINE!
Click here!

Hardcover: 352 pages
Publisher: G.P. Putnam's Sons (August 22, 2017)
Language: English
ISBN-10: 073521266X
ISBN-13: 978-0735212664

Order THE ROOM OF WHITE FIRE Now!
Choose your favorite
on-line bookstore and order your copy now!

Amazon.Com
Barnes & Noble
Indie Bound
iBooks

NOW AVAILABLE: CRAZY BLOOD
The Carson dynasty rules the ski resort town of Mammoth Lakes in the Sierra Nevada Mountains in California. Founded by patriarch Adam, the town is the site of the Mammoth Cup ski race-a qualifier for the Olympics. But when Wylie Welborn, Adam's illegitimate grandson, returns after a stint in Afghanistan, it reopens a dark moment in Carson family history: the murder of Wylie's father by his jealous and very pregnant wife, Cynthia. Her son Sky, born while his mother was in prison, and Wylie are half-brothers. They inherit not only superb athletic skills but an enmity that threatens to play out in a lethal drama on one of the fastest and most perilous ski slopes in the world.

Three powerful and unusual women have central roles in this volatile family feud: Cynthia, bent on destroying Wylie; his mother Kathleen, determined to protect him; and April Holly, a beautiful celebrity snowboarder, on track to win Olympic Gold. But, as Wylie falls in love with April and they begin to imagine a life away from the violence that has shattered his family, history threatens to repeat itself and destroy them both.

Combining exquisite writing with breathtaking scenes of high stakes skiing, CRAZY BLOOD is an unforgettable story!

---

LISTEN TO AN EXCERPT FROM THE AUDIOBOOK OF CRAZY BLOOD

Hardcover: 304 pages
Publisher: St. Martin's Press (March 8, 2016)
Language: English
ISBN-10: 1250064090
ISBN-13: 978-1250064097

Order CRAZY BLOOD Now!
Choose your favorite
on-line bookstore and order your copy now!

Amazon.Com
Barnes & Noble
Indie Bound
iBooks

AVAILABLE IN PAPERBACK!
Patrick Norris has seen the worst that Afghanistan has to offer–punishing heat, bitter cold, and buddies blown away by bombs and snipers. He returns home exhilarated by his new freedom and eager to realize his dream of a sport fishing business. But the avocado ranch his family has owned for generations in the foothills of San Diego has been destroyed by a massive wildfire and the parents he loves are facing ruin. Patrick's dream will have to wait.

His brother, Ted, worships Patrick and yearns for his approval. Gentle by nature but tormented by strange fixations and dark undercurrents, Ted is drawn into a circle of violent, criminal misfits. His urgent quest to prove himself threatens to put those he loves in peril.

Patrick falls in love with Iris, a beautiful and unusual woman, who seems strong enough to help see Patrick through his re-entry from the war. But Ted's plan for redemption goes terribly wrong. Desperate to find his brother and salvage what remains of his family, Patrick must make an agonizing choice.

Paperback: 304 pages
Publisher: St. Martin's Press (December 1, 2015)
Language: English
ISBN-10: 1250070384
ISBN-13: 978-1250070388

Order FULL MEASURE Now!
Choose your favorite
on-line bookstore and order your copy now!
Amazon.Com
Barnes & Noble
Indie Bound
iBooks



T. Jefferson Parker talks about the Marines and those who have returned from the war in Afghanistan. Click here to read more.



THE FAMOUS AND THE DEAD is the explosive conclusion to T. Jefferson Parker's New York Times bestselling Charlie Hood series

Los Angeles County sheriff 's deputy Charlie Hood is attached to the ATF, working undercover on the iron river that flows across the U.S.-Mexican border. The diamond fillings he wears in his left canine glimmer, distracting the men who sell the illegal firearms that enable the unspeakable violence on both sides of the map. Spotting the sparkle when "Charlie Diamonds" opens his mouth is often their first step toward life behind bars.

Meanwhile, Bradley Jones, sheriff 's deputy and employee of the Baja Cartel, son of the love of Charlie's life, the deceased L.A. outlaw Suzanne Jones, is expecting a son of his own. Suzanne was descended from famed Mexican desperado Joaquin Murrieta, whose embalmed head Bradley inherited from her and keeps nestled among piles of cash, proceeds from Bradley's own life of crime.

Charlie knows all of Bradley's secrets; the question is what he'll do with the information. Until he decides, his obsession remains the inexplicable existence of Mike Finnegan, the diminutive devil who flits in and out of both men's lives, knowing things he shouldn't, seemingly immortal.


Paperback: 384 pages
Publisher: NAL Trade (July 1, 2014)
Language: English
ISBN –10: 045146821X
ISBN -13: 978-0451468215

Order THE FAMOUS AND THE DEAD!
Choose your favorite
on-line bookstore and order your copy now!
Amazon.Com
Barnes & Noble
Indie Bound

The Critics Weigh In on "The Famous and the Dead!"



"...highly impressive...entertaining and provocative..."
– Publishers Weekly (starred review)

"...part elemental morality play, part fire-and-brimstone mythmaking, all of it inimitably Parker..."
– Kirkus

"...a standout series..."
– Booklist (starred review)
THE JAGUAR
A CHARLIE HOOD NOVEL!
T. Jefferson Parker delivers a crime thriller that redefines the landscape of the cartel wars as an epic clash of good and evil.

---

MUSIC FROM THE JAGUAR!
CITY OF GOLD
By T JEFFERSON POSSE
Now available online at cdbaby.com, iTunes, Amazon.com and other music websites.

A World blend of American, Veracruz, and Afro-Caribbean Music Featuring the vocals of Carlos Murguia, Andrea Delancelott, Chris Whynaught and Tom Bagley.
Produced by Peter Dobson, Carlos Muirguia and Tom Bagley.


Paperback: 384 pages
Publisher: NAL Trade
ISBN-10: 0451239113
ISBN-13: 978-0-451-23911-22
Order THE JAGUAR
Amazon.Com
Barnes & Noble
Indie Bound
T. Jefferson Parker's first 9 novels now available in eBook form!
Check with your local bookseller or go online to order these terrific new editions of T. Jefferson Parker's classic novels!
HARPER PREMIUM REISSUES OF T JEFFERSON PARKER NOVELS NOW AVAILABLE!
T Jefferson Parker's Storm Runners, The Fallen, California Girl and Cold Pursuit will be reprinted this coming December with cool new cover art! Check out the images by clicking on the cover on the right and be sure and pick up your copies at a book store near you!
Readers! follow T. jefferson Parker on facebook and twitter!


Click on the buttons below to join!



Read T Jefferson Parker's newsletter! Click here.

PURCHASE T. JEFFERSON PARKER BOOKS
You can purchase copies of TJP's books either at your favorite bookstore or on-line. Click here to begin!