Original short stories by best-selling mystery writers about their favorite pastime—fishing. Sixteen of America's favorite author-anglers spin tales of mystery and fishing in this collection. From the tragic to the comic with many stops in between, these stories reflect the authors' passions for both making stories and catching fish. Michael Connelly, Ridley Pearson, John Lescroart, Don Winslow, Melodie Johnson Howe, Victoria Houston, and others all share a mysterious affection for things piscatorial when not busy writing best-selling books. This collection of all-original short stories will entertain even the most discriminating mystery reader.

Proceeds from this book will help support two charitable groups, Casting For Recovery, which helps women cancer survivors to heal body and soul through fly-fishing, and Project Healing Waters, which does the same for our returning veterans.

Contributing authors include • Ridley Pearson • Mark T. Sullivan • Michael Connelly • John Lescoart • Andrew Winer • Dana Stabenow • Don Winslow • Melodie Johnson Howe • James W. Hall • C.J. Box • Victoria Houston • William Beall • Spring Warren • Brian M. Wiprud • William Tapply • T. Jefferson Parker.



Countryman Press US hardcover April 2010
ISBN-10: 0881508667 / ISBN-13: 978-0881508666
Tantor Media on CD April 2010
ISBN-10: 1400116619 / ISBN-13: 978-1400116614






T. JEFFERSON PARKER TALKS ABOUT HIS STORY LUCK AND HOOKS, LINES & SINISTER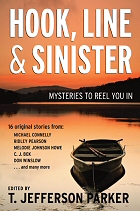 In my short story, "Luck," two headstrong men vie for the biggest fish and a beautiful woman. The story centers around a high-dollar fishing competition – which team of anglers can catch the biggest trout on the fabled East Walker River in Nevada. The stakes are high – the winning team stands to get $900,000, but the river is even higher, making this sport not only expensive but potentially dangerous.

I enjoyed writing this story and the ending surprised me, so I hope it surprises you. All of the author/anglers in this collection are donating their royalties to Project Healing Waters, and Casting for Recovery, two fine charitable groups who use angling as a way to heal bodies and souls. It's nice to help someone by doing what I love to do. Enjoy.

-- T. Jefferson Parker