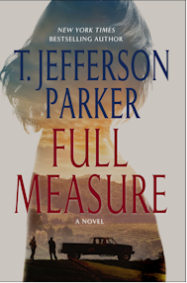 Over the past 3 years it's been my privilege to talk with many of the United States Marines returning from war in Afghanistan. I live in Fallbrook, which abuts Camp Pendleton. Two of Pendleton's fine librarians invited me to give a talk not long ago, and I was truly impressed by the Marines who attended. They were young, bright, thoughtful, and many of those returning from combat were planning their re-entry into civilian life.
Later, I had a long interview with one of them, Tristen Chunn, who had fought with the legendary Darkhorse Battalion -- the 3/5 -- in Sangin. Sangin was one of our most costly campaigns in the war, but when the 3/5 left, the Taliban flags were no longer flying.
Some of the stories that Tristen and other Marines told me found their way into my novel, "Full Measure," to be published Oct. 7 by St. Martin's Press. One of the many pleasures of writing "Full Measure" was getting to tell those stories.
I respect and admire these Marines very much.
T. Jefferson Parker