Dear Friends and Readers,

I'm very happy to report that my new book, Full Measure, will be published Oct. 7 by St. Martin's Press. I worked for three years on this -- my first literary novel -- using everything I've learned as a writer to bring you, I hope, an unforgettable read.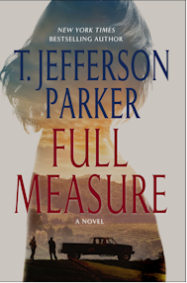 Full Measure
is set in my adopted hometown of Fallbrook, California. It's a story of two brothers. Patrick Norris is the younger, and has just returned home from bloody combat in the Sangin District of Afghanistan. He fought with the Dark Horse Battalion of the United States Marines -- the legendary 3/5. He carries inside him both demons from that war, which he tries to hold in check, and dreams for a future. With a few dollars of combat pay that he was able to send home and save, Patrick buys a used fishing boat, on which he plans to guide fishing clients on San Diego Bay. And there's a woman here in Fallbrook whose memory he carried into battle halfway around the world...

His older brother, Ted, is a down-on-his luck loner, a guy who just can't seem to catch a break. He adores Patrick, calls him a hero, which Patrick wants no part of. Ted has dropped out of college to drive a taxi around Fallbrook. He's always looking for a woman but he just can't connect in any good way. Instead, he falls in with a group of racist propagandists and agitators known as the Rogue Wolves, led by former Fallbrook scourge Cade Magnus. Magnus has returned to Fallbrook to carry on his grim work.

Patrick and Ted's mother and father are third-generation owners of Norris Avocado Growers -- a beautiful 80-acre ranch in Fallbrook. When a devastating wildfire destroys most of their trees, Patrick and Ted have to set aside their dreams -- and their differences -- and help save the family business.

Complications ensue!

But enough already. I just wanted to whet your appetite for
Full Measure.


I'll be kicking off my author tour at the Fallbrook Library on September 23. Come on down if you can.

I'll be telling you more in the coming weeks, so keep an eye on my Facebook and Twitter pages. St. Martin's Press is sponsoring a giveaway on Goodreads, too, so don't miss that.

Best and Soon,

Jeff
---