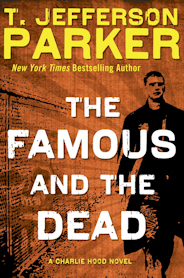 The Critics Weigh In on The Famous and the Dead

"...highly impressive...entertaining and provocative..."
– Publishers Weekly (starred review)

"...part elemental morality play, part fire-and-brimstone mythmaking, all of it inimitably Parker..."
– Kirkus

"...a standout series..."
– Booklist (starred review)

"…T. Jefferson Parker has burgled the crumbling palace of Edgar Allan Poe for inspiration in The Famous and the Dead…"
– The Wall Street Journal

---
Hello Friends and Readers!

I'm happy to tell you that Charlie Hood will be riding into action on Thursday, April 18 in The Famous and Dead.

This book is Charlie's last stand against the estimable forces that have lined up against him for years -- gun smugglers, cartel heavies, treacherous "friends" and co-workers, and the humorfully malicious Mike Finnegan.

Now, in The Famous and Dead, Charlie is also in the crosshairs of a furious domestic terrorist who makes the word "dangerous" seem mild. And all the while Charlie is trying to keep his love, Dr. Beth Petty, in his life but out of harm's way, even as the dark forces aligned against him pry them further and further apart.

But there's more than just Charlie's "history" in this novel. As part of an American Heart Association fundraiser, a reader donated a sizable sum of money to have a character in my new book named after her. Her name is Mary Kate Boyle, and as I talked to her over the phone to get some feel for her as a person, I was struck by her good humor and can-do practicality (she's a former ER nurse, so those qualities makes sense in her!). I wrote the opening Charlie scene with my version of Mary Kate Boyle in it. "My" Mary Kate is a poor girl from Missouri with a sad and violent story, and she comes all the way to LA on Trailways to tell it to Charlie and his ATF brethren. By the time I was done writing that scene, I knew I had a wonderful character on my hands -- Charlie knew it, too -- and she goes on to play a large and important part in this story. Thanks, Mary Kate Boyle -- both of you!

And so, in The Famous and the Dead, all mysteries are resolved. Some justice is done, and some vengeance taken. Devils get their due and angels tread lightly. It's all just another day in the saddle for Charlie.

I hope to see some of you on tour over the next days. To view my upcoming schedule of appearances, click here.

Enjoy the tale.